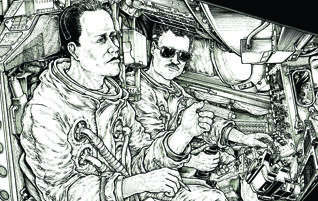 A favorite project – illustrations for "Blue Gemini'
I've been collaborating with my brother, Mike Jenne, to produce supporting illustrations for
his new adventure fiction trilogy about a secret Air Force space program in the Sixties. Since
I had started my professional career working as a technical illustrator at the Marshall Space
Flight Center, it is all familiar territory for me. The third book of the trilogy, 'Blue Gemini', is now
available at bookstores, at Amazon.com and other sites. Visit www.mikejennebooks.com for
more information and to see these illustrations of the 'Blue Gemini'.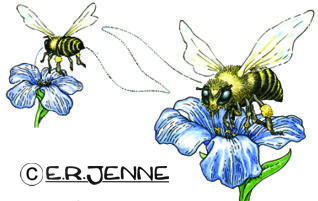 A recent project – illustrations for Missoula Butterfly House
I've just provided numerous illustrations of various arthropods, insects, bugs and such for the
museum displays at the new Missoula Insectarium and Butterfly House. In producing these
drawings, I am reminded how fascinating and diverse these creatures are. When in Missoula, visit the Missoula Insectarium or see www.missoulabutterflyhouse.org for more information.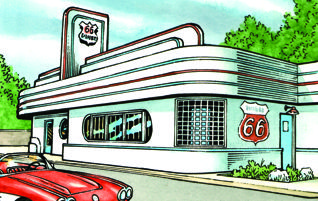 A recent project – "Route 66" bicycle tour map illustrations
I've recently finished the tour decal and six cover spots for sections of the historic Route 66
bicycling tour map for the Adventure Cycling Association. I've enjoyed working with the
Adventure Cycling Association, America's premier bicycle touring organization, for many
years now. Visit their website at www.adventurecycling.org for more information.
Recent project – illustrations of Indian Sport Scout racing motorcycles
My cousin Ellie commissioned an illustration of my late Uncle Pete's flat track racing bike
from the late forties. Since my uncle and my father raced together back in Springfield, I
decided to draw up both motorcycles. (My father had actually painted up both of their bikes
and helmets back then.) These precisely detailed illustrations have made a great set of
prints serving both as family history and as depictions of iconic vintage racing motorcycles.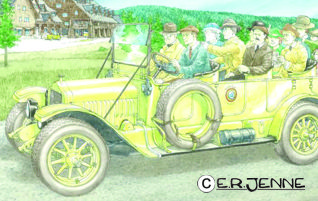 Coming soon – an illustrated map of historic Yellowstone National Park
I've recently completed a large full color illustration featuring a historic map of Yellowstone National Park of nearly one hundred years ago.  In the periphery surrounding the map are numerous illustrations depicting Park visitors, places and wildlife.  Combining diligent research with detailed pen and ink illustration and finished with watercolors,  this unique artwork will soon be available as a print.
.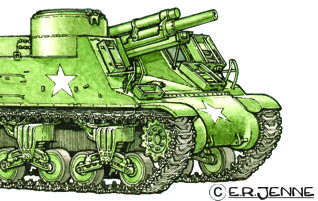 Fort Harrison Historic District walking tour illustrations
A walking tour of the new Fort Harrison historic district is now open to the public. My illustrations and maps are featured on the interpretive signs and the walking tour brochure.  Located near Helena, Fort Harrison has been instrumental in the  history of Montana.  Military units from Montana have served proudly from the early territorial militia days through current conflicts. The famed First Special Service Force also trained at Fort Harrison before deploying to Europe during WWII.  My own military experience was helpful in producing accurate depictions of  the uniforms, equipment, facilities and soldier life.  Visit  www.montanamilitarymuseum for more information on the Fort Harrison Historic District and the Fort Harrison Military Museum.
.